Kane County Water Conservancy District has been focused on water development, conservation and improvements for over fifteen years and continues in that same direction today. There are a few projects that are inline for the next couple of years. The three priorities are the third well and tank for Johnson Canyon, the new office building and warehouse and the Cove Reservoir.
The Johnson Canyon system will have a third well come online in the summer of 2016.  The well is located in the navajo sandstone aquifer and has the capacity to pump 800 gallons per minute.  The District is also constructing a 250,000 gallon water tank in Johnson Canyon to increase the storage capacity for the area.  The system should be completed and in service by summer 2016. The photos above show the fusing machine that is being used to make the pipeline that will lateral off the main line to the new water tank.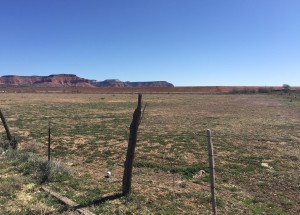 The District is in the process of planning for a new office building and warehouse that should be completed within the next two years. The preliminary engineering work is being done to prepare for the building construction. The District owns the land that the office building will be built on and is located near the Jackson Flat Reservoir. (The picture on the left shows the lot in which it will be built.) The District is applying for a CIB grant and loan to fund the building. The current office is leased and is not ADA compliant.
The Zion National Park Water Rights Settlement Agreement allows for storage of up to 6,750 acre/ft of water in drainages on the East Fork of the Virgin River. The district is currently studying and developing resources to construct a reservoir in the Cove Canyon site which is just south of Orderville, UT.